Ecumenical Patriarch at the Christmas Village in Nichori on the Bosphorus
On the Sunday before the Nativity of Christ, 18 December 2022, His All-Holiness Ecumenical Patriarch Bartholomew made a visit to the festive Christmas village that was set up again this year in the courtyard of the Holy Church of Panagia Koumariotissa, in Nichori on the Bosphorus, organised under the supervision of the Community Committee.
In an atmosphere of joy and excitement, the Patriarch listened to Christmas carols from the young children of the Community, to whom he also distributed gifts and sweets.
Many people participated in the festive event, which has now become a yearly event, in Nichori, on the days leading up to the great feast day of Christ's Birth.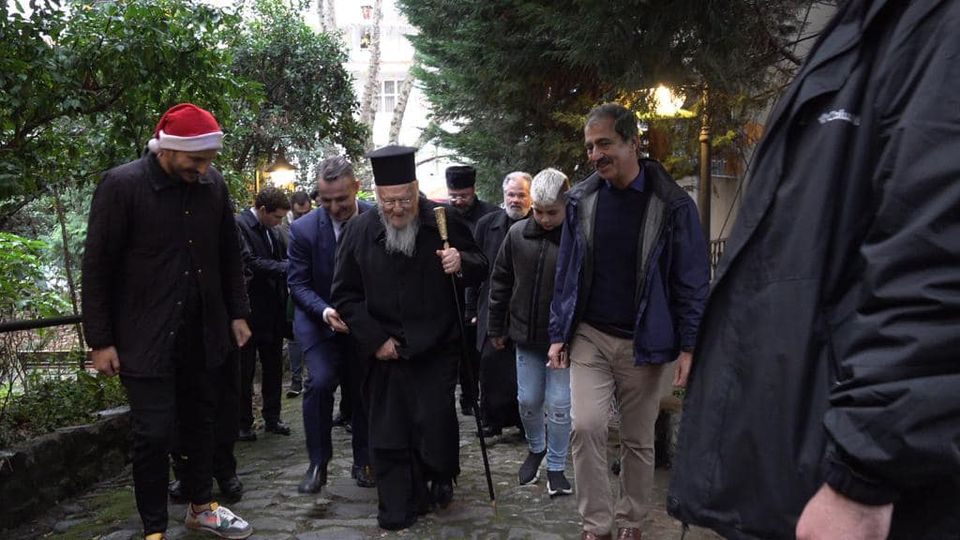 According to the relevant press release of the Neochorion Community:
"The festive event of our community was crowned with great success, on Sunday, 19 December 2022. In the morning, the Divine Liturgy was celebrated in the Holy Church of Saint George (Metochion of the Holy Sepulchre) and immediately after we welcomed the friends and visitors, who flocked to the decorated courtyard of Panagia Koumariotissa. All the stalls of the Christmas Village, which were managed by the Philoptochos Association of Pera and expatriates, were full of food and sweets of the holidays, hot wine to cheer us up in the cold of December and decorations, to welcome, as is customary, the Birth of the God-man. Of course, Ai Vasilis, could not be missed, who played with our little friends and listened to their wishes for the gifts they want.
We sincerely thank His All-Holiness Ecumenical Patriarch Bartholomew, who honoured us with His high presence and blessed those present and even the children, who sang carols to him. We also thank Metropolitan Athenagoras of Kydonia, Patriarchal Overseer of the Bosphorus, who was always by our side and fatherly supported us in our endeavor. Among our many visitors was Mr. Şükrü Genç, Mayor of Sarıyer, who honoured us with his presence. We sincerely thank him for his willing disposition and occasional services to our community.
We owe thanks to all the volunteers and co-workers who worked hard to make the Christmas celebration possible.
Finally, we would like to thank from the bottom of our hearts each and every one of you, who with your visit and your purchases strengthened the charitable action of the Neochorion Community, which wishes to the whole world: MERRY CHRISTMAS! "
More photos: