As crews contain Europe fires, pope sounds alarm on climate threat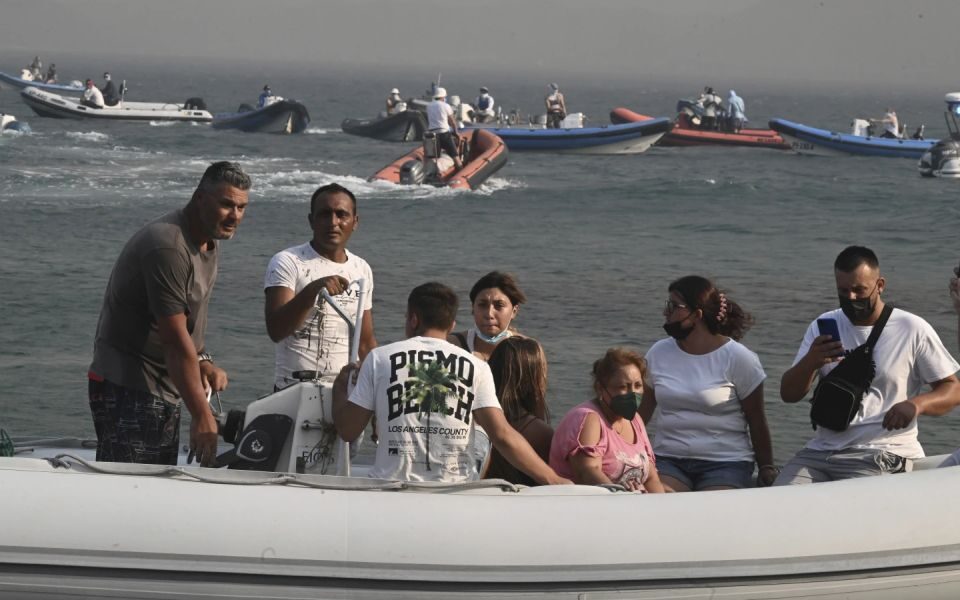 Pope Francis urged governments to do more to fight climate change and protect "our common home" as improving weather conditions Friday helped firefighters contain wildfires in Greece, Italy and other countries in southern Europe.
Francis, who has been outspoken on environmental issues, sent a telegram of condolences to Greece, where wildfires killed five people over the past week, including the pilots of a water-dropping aircraft.
The pope noted that successive heat waves have exacerbated the dangers of the summer fire season. He offered his prayers for firefighters and emergency personnel in particular.
"[I hope] that the risks to our common home, exacerbated by the present climate crisis, will spur all people to renew their efforts to care for the gift of creation, for the sake of future generations," Francis said.
Fueled by the heat waves and strong gusts of wind, wildfires in Europe's Mediterranean region have kept travelers and residents on alert. In Greece, fires scorched hundreds of square kilometers of land outside Athens, on the island of Rhodes and elsewhere this month.
As the situation improved considerably on Friday, Greece's minister for the police unexpectedly stepped down, citing "personal grounds." Greek media said Notis Mitarakis' resignation was requested after it emerged he had been on a family holiday during the wildfire crisis.
The main opposition SYRIZA party issued a statement accusing the centre-right government of using "personal grounds" as a euphemism for "(Mitarakis') holidays while the country was burning from end to end."
In central Greece, authorities maintained an exclusion zone around one of the country's largest air force bases after a wildfire triggered powerful explosions at a nearby ammunition depot Thursday. Fighter jets stationed at the 111th Combat Wing base were moved to other facilities.
The depot blasts near the central city of Volos shattered windows in nearby towns and prompted the evacuation of more than 2,000 people. Local news broadcasts showed a ground-shaking fireball erupting.
Residents were rushed onto private boats mobilized by the coast guard and taken to a conference centre in Volos, some 20 kilometres from the weapons storage site. A civilian traffic ban and evacuation order remained in effect Friday within a 3-kilometer radius of the depot.
The explosions did not affect flights at Volos international airport, officials told The Associated Press.
Firefighting teams in Turkey also brought a wildfire burning close to the southern Mediterranean resort of Kemer under control, four days after it erupted, Ibrahim Yumakli, the country's forestry minister, said.
The governments of the countries hit by heat waves and fires have steered public debate away from the potential impact on tourism. Rhodes, where a fire last weekend required about 19,000 people to be evacuated from several locations on the island, was promised state support Friday for its international advertising campaign.
In Germany, Health Minister Karl Lauterbach sought Friday to address Italian irritation over a mid-July social media post in which he described the heat wave he encountered on a visit to Italy as "spectacular" and added that "if it goes on like this, these vacation destinations will have no future in the long term."
Lauterbach told reporters in Berlin that he wasn't warning against vacations in southern Europe and plans to visit Italy again himself.
"Of course, it is more difficult now for the southern countries to organize heat protection in such a way that it is also accessible for every tourist, but I think those countries will know exactly what they have to do," he said.
Vassilis Kikilias, the Greek minister for climate change and civil protection, said fires had burned 400 square kilometres of land in the country in July alone, while the recent average is 500 square kilometres in a year.
"Is the situation any better in other countries bordering the Mediterranean? It's a fair question … but the answer is no," Kikilias said.
"The climate crisis that brought us this unprecedented heat wave is here. It's not a theory. It is our actual experience," he said. "This is not something that will just occur this year. It will last and we have to face the consequences of what that means."
Source: AP