Church
Archbishop Makarios honours the Catholic Archbishop of Sydney
The Medal of the "Order of the Christ-loving" was awarded by his Eminence Archbishop Makarios of Australia to the Catholic Archbishop of Sydney, the Most Reverend Anthony Fisher, during a formal dinner given in the hall of St Andrew's Greek Orthodox Theological College, on Saturday, 13th November.
The honorary award was given in recognition of the admirable and fruitful cooperation between the Archbishops of the two local Churches in Australia, while reflecting the bonds of friendship and fraternity that bind the Ecumenical Patriarchate and the Church of Rome, as well as the spirit of peace, love and mutual respect that has always connected the ecclesiastical faithful in the fifth continent.
In his address, His Eminence Archbishop Makarios expressed his gratitude to Archbishop Anthony because, from the first moment he arrived in Australia, he showed love and trust in his person. In fact, many times on issues of common concern, they worked together in advocating to the Government and other relevant parties, to achieve a good outcome for society as a whole. Such issues, for example, were the recent legislative amendments on abortions, euthanasia, the confidentiality of confession and vaccination against the coronavirus pandemic. Finally, Archbishop Makarios of Australia conveyed to his counterpart the wishes and love of His All-Holiness Ecumenical Patriarch Bartholomew and, with this opportunity, stressed the importance of the historic anniversary of the completion of 30 years of his glorious patriarchy.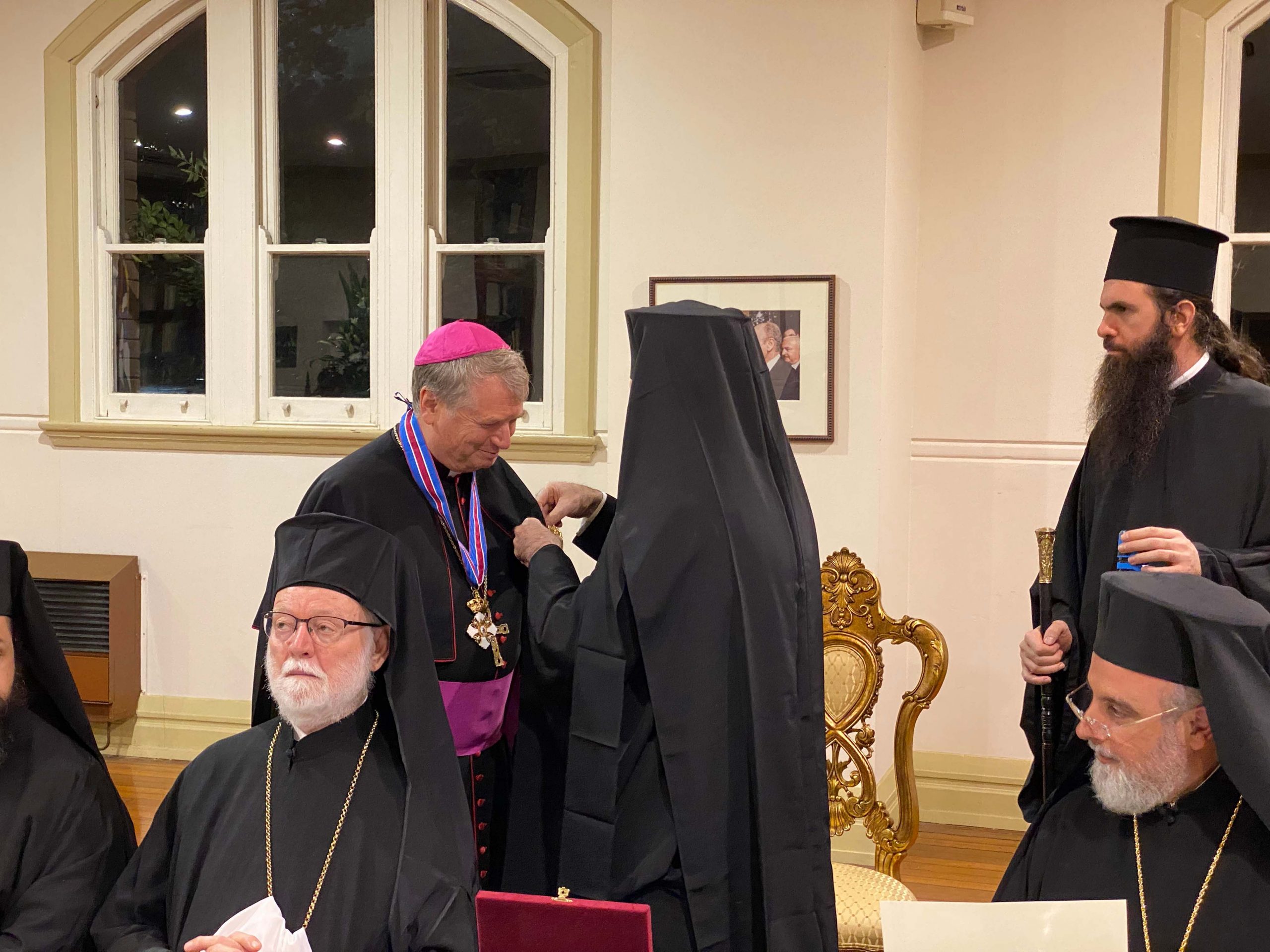 Archbishop Anthony thanked the Greek Orthodox Church and, Archbishop Makarios in particular, for the cooperation and love he shows for his person and the Australian people in general. He wished for unity and peace between the Churches and stressed that the cooperation with the Head of the Greek Orthodox Church leads only to positive results for the good of Australian society.
Present at the official dinner, from the side of the Orthodox Church, were His Eminence Metropolitan Ezekiel of Dervis; Their Graces Bishop Iakovos of Miletoupolis, Emilianos of Meloa, Elpidios of Kyaneon, Silouan of Sinope and Kyriakos of Sozopolis; Their Graces Bishop-elect Christodoulos of Magnesia, Evmenios of Kerasounta, Prochoros of Charioupolis; the Chancellor of the Holy Archdiocese of Australia, The Very Reverend Archimandrite Christophoros Krikelis; the Archdeacon, Athenagoras Karakonstantakis, as well as the brother of the Ecumenical Patriarch, Mr Nikolaos Archontonis, and his wife Catherine; while Archbishop Anthony was accompanied by his Auxiliary Bishop Richard Umbers and Fr Lewi Barakat, as well as the heads of the Maronties, Bishop Antoine-Charbel Tarabay; the Chaldeans, Archbishop Amel Nona; and the Melkities, Bishop Robert Rabbat.