Anti-lockdown protest turns violent in Melbourne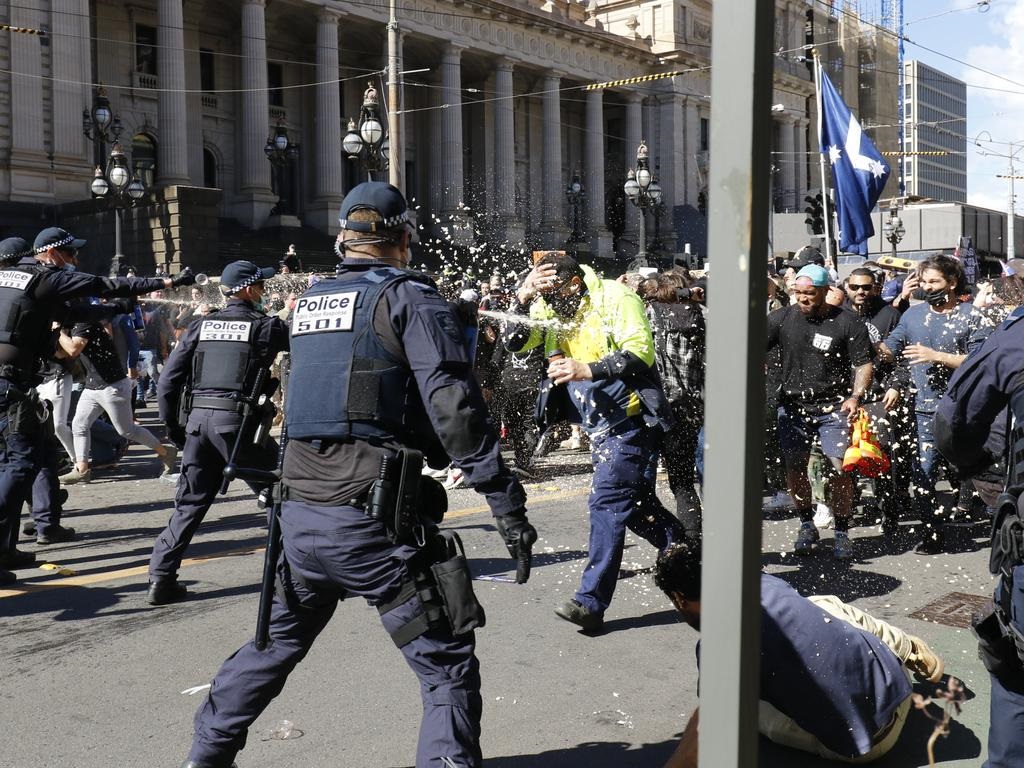 There have been arrests of anti-lockdown protesters at a large demonstration that turned violent in Melbourne, while similar events have also taken place in Sydney and Brisbane.
Some 700 police officers were deployed in Melbourne's CBD on Saturday morning as anti-lockdown protesters converged outside Parliament House.
Pictures taken outside Flinders Street Station showed police facing off with protesters and pepper spraying them.
Footage posted on social media also showed people cheering and letting off flares.
Victoria Police said a number of arrests have been made.
Chief Commissioner Shane Patton said on Saturday morning police were fining people for being more than 5km from home even before the protest began.
He said those protesting risked being issued with a hefty fine.
"Please do not attend this demonstration, the risk of spread of the virus is significant," he said. "Every protester who we can identify and who we can apprehend will receive a $5,500 fine. It's just ridiculous to think that people would be so selfish and come and do this."
Victoria recorded 61 new locally acquired virus cases on Saturday, including 39 that were infectious in the community. Authorities have only been able to link 48 of the cases to known outbreaks.
Premier Daniel Andrews condemned the protesters on Saturday.
"Protesting doesn't work against this virus. In fact, it will contribute to the spread of this virus, and the more cases we have the longer we'll be locked down," he said.
In Sydney, the presence of at least 1,500 police officers has prevented the large numbers planned for another anti-lockdown protest.
Scuffles broke out as protesters were arrested at Sydney's Victoria Park, just out of the CBD in Camperdown.
Video footage taken near Victoria Park shows two men being arrested.
Taxis and Ubers were banned from taking passengers into the CBD until 3pm.
Sydney recorded the country's highest-ever increase in daily COVID-19 cases on Saturday.
On Friday, an alleged organiser of the Sydney protest this weekend was sentenced to at least three months' jail for failing to comply with NSW public health orders.
Queensland-based Victorian Anthony Khallouf, 29, pleaded guilty on Friday to breaching public health orders by driving to Sydney last weekend.
He was sentenced by magistrate Robyn Denes to a non-parole period of three months' imprisonment, with an aggregate term of eight months.
An estimated crowd of thousands also gathered in Brisbane City Botanic Gardens on Saturday to rally against lockdown and vaccine measures.
"Wake up sheeple," one sign read.
Source: sbs.com.au