'A growing problem': NSW records 163 new local COVID-19 cases as numbers continue to rise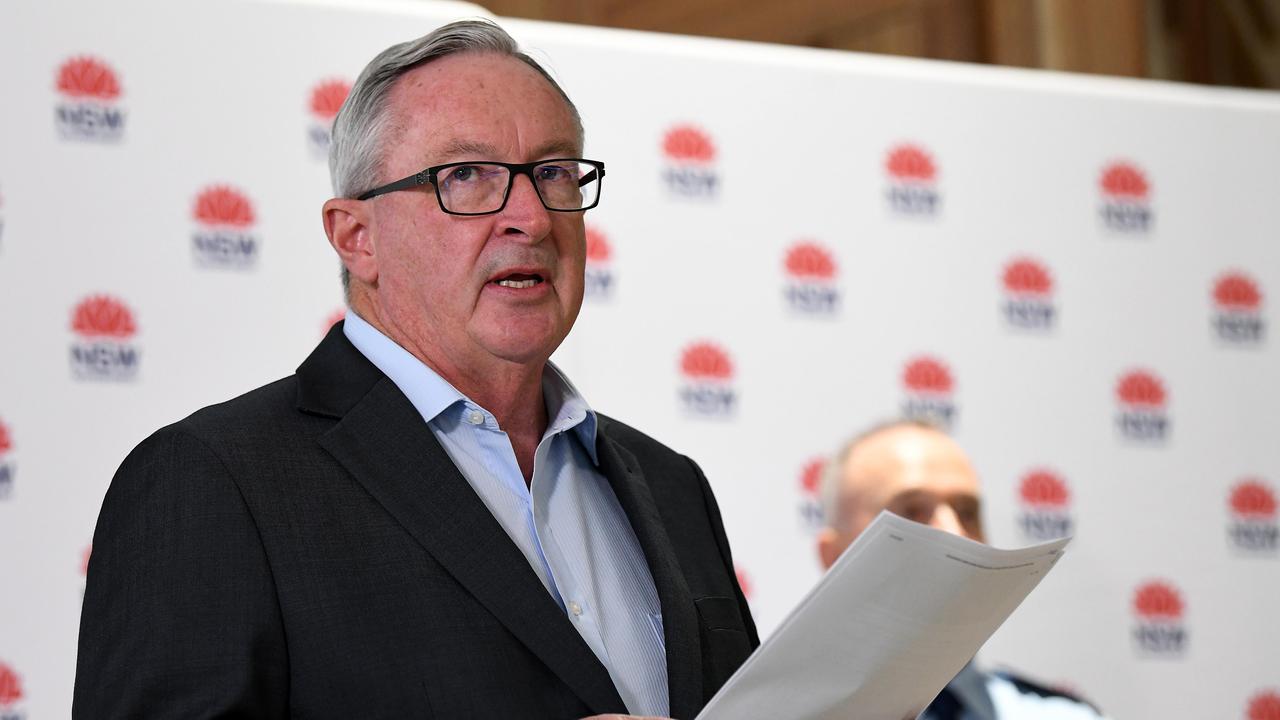 New South Wales has recorded 163 new locally acquired COVID-19 cases, with 45 of those infectious in the community.
The new cases in the 24 hours to 8pm on Friday came from a record 93,910 tests.
NSW Health Minister Brad Hazzard said he is troubled by the ongoing increase in daily infections.
"[Today's numbers] takes us up from the previous day, which was 136 cases, and, of course, it was only a few days ago that we were in the 70s. So what it is telling us is we have a continuing and growing problem, particularly in south-west and western Sydney," he told reporters on Saturday.
Other states urged to reconsider and divert Pfizer doses to NSW
Mr Hazzard urged people, particularly in coronavirus hotspots, to avoid contact with other people.
"Hear the message and stay at home. Don't intermingle with members of other households. It will continue to cause grief in western and southwestern Sydney. Just please, stop doing it," he said.
He urged other state leaders to reconsider their refusal to divert Pfizer vaccines to NSW to boost vaccination rates in western and south-western Sydney.
"It is with disappointment that I heard some of the responses from leaders from other states," he said.
"I can't quite see the difference between beating backfires and beating back and addressing the problems of floods, and beating back this COVID virus."
Mr Hazzard said he cannot confirm reports that the Prime MInister's Office is diverting Pfizer doses from the national stockpile to NSW.
"I have no idea how much, if any, are in our national stockpile. I simply don't know that. I would like to know.
"Can I say if the Prime Minister has said, that and if he is, I welcome that offer. I just need to see it in writing and know exactly what that means."
He said he has found it "frustrating" communicating with the federal government on vaccine supply and the expected delivery schedule of vaccine supplies.
"At the moment it is like fighting a war with both arms behind your back."
Police says deliberate house parties and gatherings must stop
The number of tests conducted has reached another record of 93,910 compared to the previous day's total of 86,620.
The death of a man in his eighties announced yesterday were officially included in today's coronavirus tally. The death toll from the current outbreak is now six.
Police issued 246 fines to people for breaching COVID-19 public health orders.
NSW police deputy commissioner, Gary Worboys, said it is reprehensible that people continue to deliberately breach COVID-19 rules.
"The hard part for everyone to get their head around is the fact that this Delta strain is so transmissible, that people will quite consciously invite people into their house and each and every one of those people then returns to their home with the prospect of infecting everyone in their household.
"This sort of behaviour is highly irresponsible, and is quite conscious in terms of that people are actually planning these events and inviting people around."
Focus on improved messaging in western Sydney
Mr Hazzard said the government is continuing to work with community leaders to improve communication of messages to multicultural community in western Sydney.
"We are a very multicultural society in southwest and western Sydney and it is one of the joys of this nation that we are a proud multicultural nation, but sometimes people who have come from overseas perhaps have suffered at the hands of other governments and perhaps getting the messages through is challenging.
"My focus is not on increased penalties, it is about just making sure that people understand that the most dangerous thing you can do in a pandemic is to be near another human being."
He dismissed suggestions from Victorian Premier Daniel Andrews of a "ring of steel" approach around Sydney.
"I don't see that as being the appropriate approach," he said. "We already have limits in terms of workers being able to come out of the five most challenged local government areas at the present time. So I think that's very appropriate as to the balance that we've struck to date."
NSW Health said it is concerned by the detection of virus fragments in wastewater in the Southern Highlands.
"There are no known cases in this area, which is of great concern," the department said.
Residents are being urged to monitor for COVID-19 symptoms and to get tested and isolate if symptoms do appear.
Over a 24-hour period until 8pm 23 July, 25,312 vaccine doses were administered, taking the overall number of doses delivered to 1,309,786.
Source: sbs.com.au